Friday, February 04, 2005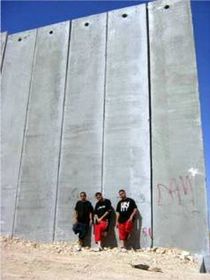 I thought I'd provide an update to my post about Palestinian hip-hop that I wrote way back in May. It seems that the movement is really catching on, and has also been gathering a fair amount of international attention. Anat Halachmi's documentary "Channels of Rage" (2003) has been making its way around the international film festival circuit. The movie follows Jewish-Israeli rapper Subliminal and Palestinian-Israeli rapper Tamer Nafar (from the group DAM), and how their relationship developed after the start of the 2000 Intifida.
It seems that many news outlets found it interesting to see the Israel-Palestine conflict being rapped over hip-hop beats. The New York Times wrote about it in July, the BBC covered it in November, and you can find a bunch more stories with a quick google search. The Jewish Quarterly also did a very interesting story about Tamer Nafar which is worth reading.
There's now a video of the song "Born Here" by DAM; you can watch the video and read the lyrics here. The song talks about how Arab towns in Israel proper are neglected, and specifically about how the railway tracks run right through them. They sing:
a destroyed house and in the garden 8 railway tracks
and in the day at least 200 trains pass
and behind the ruins, a separation wall
that should be between the house and the railroad tracks
but it is built between Snir and Nir Tzvi
and the municipality says that everything there is illegal
so, just one second, one second
what with all the legal neighborhoods that has
health care centers – surrounded with sewerage
kindergarten – surrounded with sewerage
for that there is no excuse it's just that the city didn't care for the Arabs
And Jackie Salloum, the person that did the video to Meen Erhabe, will be coming out with a new documentary film called "Sling Shot Hiphop" about Palestinian hip-hop in Israel and the Occupied Territories. You can watch the trailer from the website here.
And download this song called "maaraket baghdad" (mp3 5.12MB) and have a listen. If I'm not mistaken that martial sounding fanfare has been sampled from Fairuz's "zahrat al-madaen", no? As you can tell, not only are the rhymes improving, but the production quality of the music on some of the tracks is top notch. If you're interested in hearing some more Palestinian rap then go to the download page at Arabrap.net.
And while we're at it, let's not forget our own home-grown hiphop movement in Bahrain. I wrote about DJ Outlaw and Infinity before, promising to do a follow-up post, but I never got around to it (I will!). Anyways, DJ Outlaw has a new revamped website so check it out.