Monday, July 19, 2004
A few weeks back I posted about my discovery of a Bahraini hip-hop scene. As I mentioned in the post, Infinity and DJ Outlaw were due to perform at the Alliance Francaise's annual Fete de la Musique along with many other local musicians. I've been meaning to post something about the performance but I never got a chance until now.
Anyways, the concert was great. You had to be there to feel their energy, as they had a huge crowd of teenage fans at the show just to see them. Although it's common to see kids in Bahrain dressed in American clothing, it was quite funny and interesting seeing both the performers and the fans dressed in clothes imitating their hip-hop idols. I had a hard time wiping the smirk off my face when I saw the big group of adolescents decked out in big Timberland boots, Fubu, Ecko and NBA gear, wearing bandanas, with big chunky gold medallions hanging around their necks. There were even a couple of Bahrainis in the crowd who had their hair done in cornrows; I wasn't aware that there are hairdressers on the island that will do that for you. Seeing these kids reminded why I still find Ali G so funny.
One thing that I was really impressed with was that they had their very own crew of b-boys to start off the show: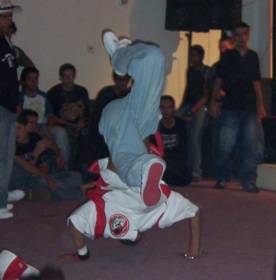 There were probably around 8 b-boys pulling some pretty crazy moves. I had no idea that there are kids on the island who take break-dancing seriously. I look forward to the day when we might see b-boys dancing on a flattened cardboard box below a palm tree on Al Fateh Corniche to the sounds of a ghettoblaster :) ... okay, it's unlikely, but possible.
The music itself was not bad either. DJ Outlaw was dropping some ill beats... much better than I expected (that's him below).
The rappers really had energy and they knew how to get the crowd going. But I wasn't able to understand anything they were saying, except the repetition of stereotypical phrases associated with hip-hop. On top of that I'm still trying to figure out where these kids might have picked up their accents. It was a very strange mix of a Bronx NY and a Compton CA accent, with an ever so subtle touch of Bahraini. It's not just these guys though. I've never understood why so many rappers from the global hip-hop scene insist on imitating these accents, even when they aren't rapping (see Outlandish, or Too Phat for example).
Asides from that it was quite an entertaining show. I'm sure that the subject of their music will mature as they themselves grow older, and the hip-hop movement here grows. Also, I hope that hip-hop will start to be used as a medium for the marginalized communities here to express themselves, as is taking place around the world. Right now it seems that both the musicians and the fans belong to the rich, private school going, English speaking part of society. I don't think it will be too long before we start seeing the movement spread to other sections of Bahraini society, and maybe we'll soon get to hear some kids rapping in Bahraini dialects of Arabic, rather than just English.
Anyways, my support goes to Outlaw, Infinity, the b-boys, and the rest of the Bahrain hip-hop scene.