Saturday, January 01, 2005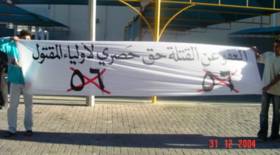 Photo source: Montadayat.org
Here's something that I had no clue was going on. From the Khaleej Times:
MANAMA — The controversy over the legal status of the Decree No. 56 issued by His Majesty the King, Hamad bin Isa Al Khalifa, earlier last year (2004), ended here with the Chamber of Deputies marking it as "constitutional." The "all-legal" decision on the King granting a general amnesty to certain individuals was approved by the majority of the Chamber members. (Continued)
Well done to our joker MPs on another job well done. I hope they are patting themselves on the back for doing such a good job of representing the will of the Bahraini people. Oopsy... they somehow missed the thousands of people who were on the streets just two weeks ago protesting specifically against Decree 56.
Actually, I had no idea that Law 56 was being discussed in Parliament. But with our elected rubber stamps in office, its not like we should have been expecting a meaningful outcome.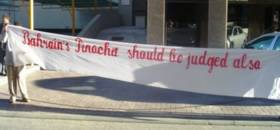 Photo source: Montadayat.org
Also yesterday, a protest was held outside the former office of Adel Flaifel, the notorious former security officer accused of torturing political activists. They were there to demand the rescinding of Law 56 so that Flaifel and his cohorts can be tried for torture and murder. (See more photos here). Similar protests are planned for the coming weeks (the next one will be on Jan 13, I think).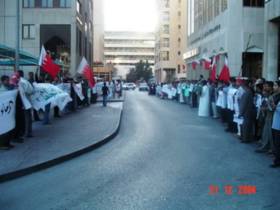 Photo source: Montadayat.org
In my eyes, the King's backing of Law 56 is the biggest obstacle obstructing the path towards truth and reconciliation between the different sections of Bahraini society. (Asides from it obviously being morally wrong) Politically, the King's support for such a humiliating law is a huge blot on all of his apparent efforts to portray himself as the "Good Cop", and it will certainly hurt him in the future if he doesn't do anything soon. Over time, it's possible for society to forget economic hardships, it's possible to forget sectarian discrimination, it's possible to forget restrictions on speech... but it's not possible to forget torture and murder -- these wounds will continue festering until they are treated.