Wednesday, December 22, 2004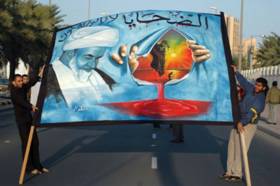 Photo source: Montadayat.org
Last Thursday (Dec 16), Bahrain officially celebrated its "National Day". On Friday (Dec 17) Bahrain officially celebrated Accession Day, however in many quarters the day was unofficially marked as Martyr's Day (3eed al-shuhuda) and spent in mourning or remembrance. Bahrania posted about this last week, but I thought I'd comment on it also because it is an important issue that gets no coverage in the press.
During the preceding week a program of events was lined up, including visits to the graves and families of the martyrs, and finally culminating in a protest march that passed by the Prime Minister's office in downtown Manama on Friday 17th. I wasn't able to attend myself, but you can view photos of the march at Montadayat.org.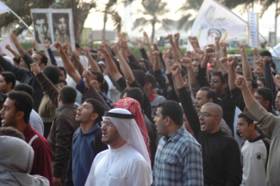 Photo source: Montadayat.org
As Bahrania mentioned, 3eed al-shuhuda is a day to remember all those who were killed and tortured at the hands of Bahrain's "security" forces and the CID for demanding political change (read Bahrania's post for details). When Shaikh Hamad took over from his father in 1999 he promised an end to all such actions by abrogating the State Security Law, emptying the jailcells of all political prisoners, allowing political exiles to return and ending the travel ban on dissidents. I do commend the King for taking these brave steps at a time when he could have just maintained the status quo (and I imagine there were significant internal forces pressuring him to keep it). However, this is the very minimum we should expect and demand of our leaders, and there is much more left to be done.
It's all well (very well) that there is no more torture going on here, but in order for the people to truly trust that the ruling regime will never engage in such activities again, it needs to publicly admit its former mistakes. We need a clear statement from the top saying "Yes, we erred in the past. We weren't thinking straight, and we apologize to the nation for the harm caused. We have changed our ways and such action will never be tolerated in the future".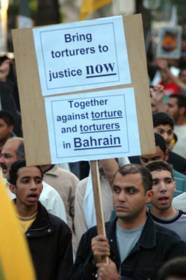 Photo source: Montadayat.org
...back to reality. Unfortunately I don't see the ruling regime coming out with that statement anytime in the near future. The problem is that the many of the Old Guard that oversaw the torture and killings are stilling sitting in influential positions. For the Reformists in regime to come clean to the nation, they would have to acknowledge the fingers being pointed at the Old Guard. As I've mentioned several times before (1, 2), in our part of the world "saving face" is very important, so I'm sure the King faces alot of pressure to not bring some of his family members, and their associates, into disrepute. And that is obviously what compelled him to issue the infamous Royal Decree 56, ensuring that the torturers will never be tried.
That does not mean however that we should not continue demanding truth and reconciliation. Maybe not tomorrow, but sooner or later the regime will need the trust of the people.