Saturday, December 25, 2004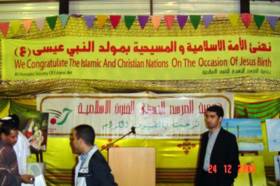 Photo source: Montadayat.org
It's the festive season, so here's something to give you the warm fuzzies and make us all want to love one another. The Al Hussaini Society for Islamic Arts organized an amateur art competition under the theme "Jesus Christ The Saviour of Mankind" from Dec 21 - 24, to commemorate his birth. For the closing ceremony a few lectures were given about the significance of Jesus Christ for both Muslims and Christians. Have a look at some of the works from the event at Montadayat.org.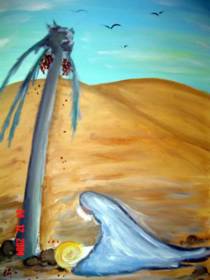 Photo source: Montadayat.org
Yes, in today's political environment it's crucially important to remind ourselves that there we have more things in common with each other than we have differences. And who better to remind us of this than Jesus of Nazareth. Even though we might argue about whether he was a god, a prophet, a regular human being, or just a myth, there is something we can learn from him. It's not important whether we believe in his existence or not, because the wisdom lies in the ideals of Humanity that he left behind (or that has been created about him, if you view it that way).
Maybe his most well-known saying is that of "turning the other cheek" (Matthew 5:38-44 King James Version):
Ye have heard that it hath been said, An eye for an eye, and a tooth for a tooth:

But I say unto you, That ye resist not evil: but whosoever shall smite thee on thy right cheek, turn to him the other also.

And if any man will sue thee at the law, and take away thy coat, let him have thy cloak also.

And whosoever shall compel thee to go a mile, go with him twain.
Give to him that asketh thee, and from him that would borrow of thee turn not thou away.

Ye have heard that it hath been said, Thou shalt love thy neighbour, and hate thine enemy.

But I say unto you, Love your enemies, bless them that curse you, do good to them that hate you, and pray for them which despitefully use you, and persecute you;
In these few lines is laid out the most powerful political tool available to us. How different this world would be if we had the moral strength to adopt these wise words. Take note that it doesn't only say "do good to your enemies"; it says "love your enemies". It isn't about outwardly behaving in a certain way, but rather about taking control of your Self; a spiritual struggle.
I'm sure most of you know much more than me about Jesus and his message, but I thought I'd remind myself of this his beautiful advice as I begin to come up with some New Year's resolutions. Anyhows, a Merry Christmas to everyone!