Saturday, November 06, 2004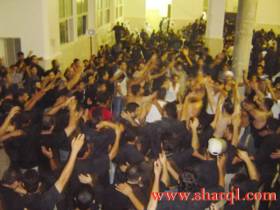 In response to my post about Shaikh Yusuf al-Bahrani a couple days back, Bahrania (formerly 7alaylia) comments:
History and civilisation did start in Bahrain before Alkhalifa rewrote the history books believe it or not!!
She's right that in the past the government has attempted to change national memories by restricting certain communities access to public space. Of course, the specific community I am referring to are the Baharna, who have the oldest roots on the island (compared to any of the other communities around today).
I haven't been to the National Museum in quite a while, but I don't recall ever seeing any displays documenting the history of the Baharna on the island, or any mention of any famous historic Bahrani personalities. However there is a great big display explaining all about how the Utub/Al-Khalifa made their way to Bahrain from Najd, through Kuwait and Qatar. It's as though they want as to believe that the history of Bahrain goes from the ancient Dilmun civilization through to the arrival of Islam, and then skips a millenium or so to the Utub invasions.
Prior to King Hamad's ascension to the throne, I recall the absence of anything to do with Shias in the national media. There were no stories in the newspapers or on TV about any Shia-related activities, and certainly not any photographs of Shia clerics in their garb. One might never even know that there are any Shias in Bahrain.
However things are definitely changing. Since Hamad's reforms, the Baharna (and the Shia generally) have gradually been allowed public space, in the media and in the press. It is not uncommon to see a photo of a Shia cleric in the papers. Actually, just today the GDN had a short report about the 'azza processions that took place last night to mark the death of Imam Ali. It even had two photographs of mourners in the procession, not unlike the photo above. Similarly, I noticed that on Bahrain TV, the lectures of both Sunni and Shia clerics are being broadcast during the time just prior to futoor (breaking of the fast in Ramadan). And driving around Bahrain it has now become quite common to see posters and banners advertising Shia-related lectures and events. All of this would have been quite unthinkable just a few years back.
So things are changing. Definitely, it will take a long while before Bahraini public space reflects the full extent of the island's ethnic and social realities -- but things are changing.