Wednesday, October 27, 2004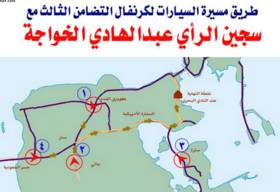 The details of the car protest rally this Thursday in support of Al-Khawaja have been released. The BCHR website posted something this morning with the directions, but it was a bit confusing. I stole the above map from a thread at the Ahrar al-Bahrain discussion board which makes things much much clearer. Click here to see the full-size image with all of the directions, in Arabic. For those of you who don't understand Arabic, here are the instructions in English:
The rally will commence at 8pm and there will be four different starting points to serve people coming from different parts of the island:
People coming from Points 1, 2 & 4 will meet up at the Shaikh Khalifa Flyover and continue east along Shaikh Isa Highway, going past the American Embassy. They will meet up with the people coming from Point 3 at the junction with the Sitra Causeway. They will then go to Mina Salman and turn left on to Al-Fateh Highway eventually stopping near the Marina Club.
The cars will stay in the rightmost lane of the road only, and they will be bearing posters of Al-Khawaja.
As I mentioned yesterday, our joker MPs don't like the sight of all these protests and demonstrations, and especially slogans against certain individuals (i.e. the Prime Minister) (read the article in today's GDN). In that proud Bahraini tradition of brown-nosing these MPs just want to use this opportunity get into the good books of the rulers and continue their meaningless careers. I don't know how these MPs can criticize the demonstrators given their own records. In my eyes, the demonstrators are finally carrying out their important democratic responsibility of demanding their rights, rather than waiting for scraps to be thrown their way by the rulers. The MPs on the other hand have done absolutely nothing worthwhile for this country despite the fact that they get paid for what they do. They continue on their useless policies of giving away free money, trying to reduce working hours, and segregating the university. Jokers, the lot of them.