Saturday, November 27, 2004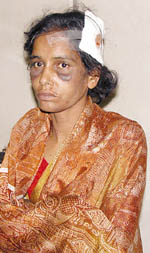 Photo source: GDN
Why is it that some legal cases in Bahrain get a hearing and verdict within a few weeks, while others take several months or years? Why should maids who are the victims of rape and abuse be made to suffer more? Thanks to the Migrant Workers Group for highlighting this very serious problem. From Thursday's GDN:
Bahrain's court system came in for criticism yesterday after the case of a housemaid, who was attacked by her sponsor's wife, was adjourned until January 24. Anita Devi Verma has been waiting for more than a year for a court verdict, despite the fact that her ex-employer has admitted beating her.

Now, human rights workers are calling for a complete overhaul in the way the Bahrain legal system handles such cases.

They want cases to be fast-tracked to allow women like Mrs Verma, from India, to return home as soon as possible.

Under the present system they are forced to remain in Bahrain while the case continues, but are not allowed to work for anyone other than their sponsor in the meantime. Continued




"Anita's case is taking its course. There was a hearing yesterday," a spokesman for the Migrant Workers Group told the GDN.

"But the legal system is slow, not just in this case but in all cases of physical and sexual abuse.

"The case takes so long that more often than not the victim gets fed up and wants to go back home.

"They settle out of court or drop the charges altogether.

"In almost all of the alleged rape cases we have come across, the women have gone home."

Because women like Mrs Verma are unable to work, they have no source of income and are forced to rely on the generosity of the public.

As a result, MWG volunteers say Mrs Verma - who has a husband and three children in Rajasthan, India - has lost a plot of land given to her as a dowry by her father when she got married.

The land was mortgaged and because she was unable to make the payments on time, it is understood it has now been repossessed by the bank.

Meanwhile, her eldest child also had to drop out of school because the family couldn't pay his tuition fees, according to the MWG.

This has been compounded by two major accidents involving Mrs Verma's relatives in India over the past year.

Her nephew died and her mother was seriously injured after a cooking cylinder exploded in their house, while her mother-in-law is apparently unable to move after being injured when her ceiling collapsed.

However, Mrs Verma is not the only housemaid in Bahrain bringing abuse charges in the courts.

Two Bahrainis were arrested earlier this month for allegedly raping a Bangladeshi housemaid, but they are understood to have been released from police custody after a week, according the MWG.

Meanwhile, an Indonesian housemaid and mother-of-two claimed she was raped by the boss of her manpower agency back in August.

However, there appears to have been no progress in her case since she first met the Public Prosecution.

"There has not been a single hearing since," said the MWG spokesman.

"Or if there has we have not been notified about it."

Sometimes, abused expat workers don't even know they are supposed to go to court because the notification is sent to the address of their sponsor, said the spokesman.

Meanwhile, the MWG is campaigning for a shelter to look after victims of abuse and says talks are underway with the government to establish one - hopefully by early next year.

"We are not looking for more co-operation, but we are looking for a better system where such cases are handled on an urgent basis," said the MWG spokesman.

"The courts should reach a decision in a few weeks or months - rather than several months or a year.

"We would also appreciate it if we are notified if there is a hearing."

Yesterday's hearing into Mrs Verma's case, which dates back to October last year, was adjourned to allow her lawyer to make further submissions on her behalf.

She claims her sponsor's wife, also from India, beat her, poured scalding water over her, punched her in the face repeatedly and banged her head against a wall.

A medical report showed she suffered serious injuries to her head, black eyes, bruises all over her body and burns to her shoulders.

A bank account has been set up to receive donations for Mrs Verma at Standard Chartered Bank.

The account number is 18125745501 under the name Anita Verma.

Alternatively, contact MWG action committee co-ordinator Marietta Dias on 39452470.
The above news article was printed in the GDN on 25-Nov-04.