Saturday, May 15, 2004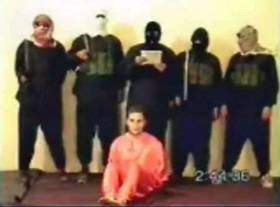 I'm sure that by now everyone is aware of the video that was released on a website supposedly linked to al-Qaeda, which showed the beheading of Nicholas Berg, an American civilian in Iraq. This is just one more in a long long line of gruesome murders committed by people claiming to represent Islam. With regards to this issue
Mahmood
comments:
If we as Muslims stay quiet about this situation, then we too shall join the ranks of sub-humanity and will be completely culpable.
I completely agree with him on this, and as a fellow Muslim and human being I would like to join Mahmood in condemning this, and all other such gruesome acts, which have been committed in the name of Islam. I believe that our conspicuous silence, or our lack of outrage, on such issues is the real reason that many people have lost trust in Muslims as a whole. I refuse to let a bunch of narrow-minded people claim to represent my beliefs anymore. It is long overdue that the supposed "silent majority" of Muslims need to get up off of their lazy or scared backsides and take a stand against this.
NOT IN MY NAME
will anyone justify the murder of an innocent human being.